Physical Education Teacher/Coach
Courses Taught:
6th, 7th, 8th grade Physical Education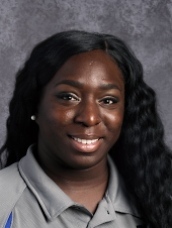 I am going into my 11th year teaching. I received my B.A. in Physical Education grades K-12 from Troy University. I graduated from Troy University in 2009. My intense course of study at Troy University has prepared me to be an informed, dynamic professional in the Physical Education field, and trained me to educate my students with the most current and up to date educational practices. I was also a track and field athlete. I started off my track career at Bevill State Community College. After graduating from Bevill, I received a full track and field scholarship from Troy University. While at Troy, I was a KHP Club Member, Who's Who Nominee, PHI Epsilon Kappa Inductee, 3.0 Club member, 3 time Sunbelt Conference Student/Athlete of the Week, Provost's List, received the Dept. of KHP Sam Roe Award, and I was a two time Sunbelt Conference Champion in the Heptathlon.
The ultimate aim of our Physical Education Program is to provide students with the skills necessary to live healthy, active lifestyles. Regular involvement in physical activity has been proven to increase test performance, raise self-esteem, reduce the incidence of life threatening disease and produce a positive impact on the social and emotional well-being of an individual.
Our Middle School Physical Education Program is a well organized program that will allow the student to develop the skills necessary to build upon for years. Students will progress a variety of units such as Fitness, Team Sports, Project, Cooperative Games, Large Group Activities, and Dance/Aerobics. Emphasis is on the skills necessary to participate in team sports-including traditional sports skills as well as learning the rules and regulations of the various sports' activities. These skills are presented through cooperative activities which will help the students' ability to be a positive member of a team.
Our goal is to create enjoyable, challenging, and meaningful activities that will provide the building blocks necessary to prepare them for High School Physical Education and beyond.
I have to say..."I LOVE MY JOB!!!!"