WELCOME TO
MARBURY MIDDLE SCHOOL LUNCHROOM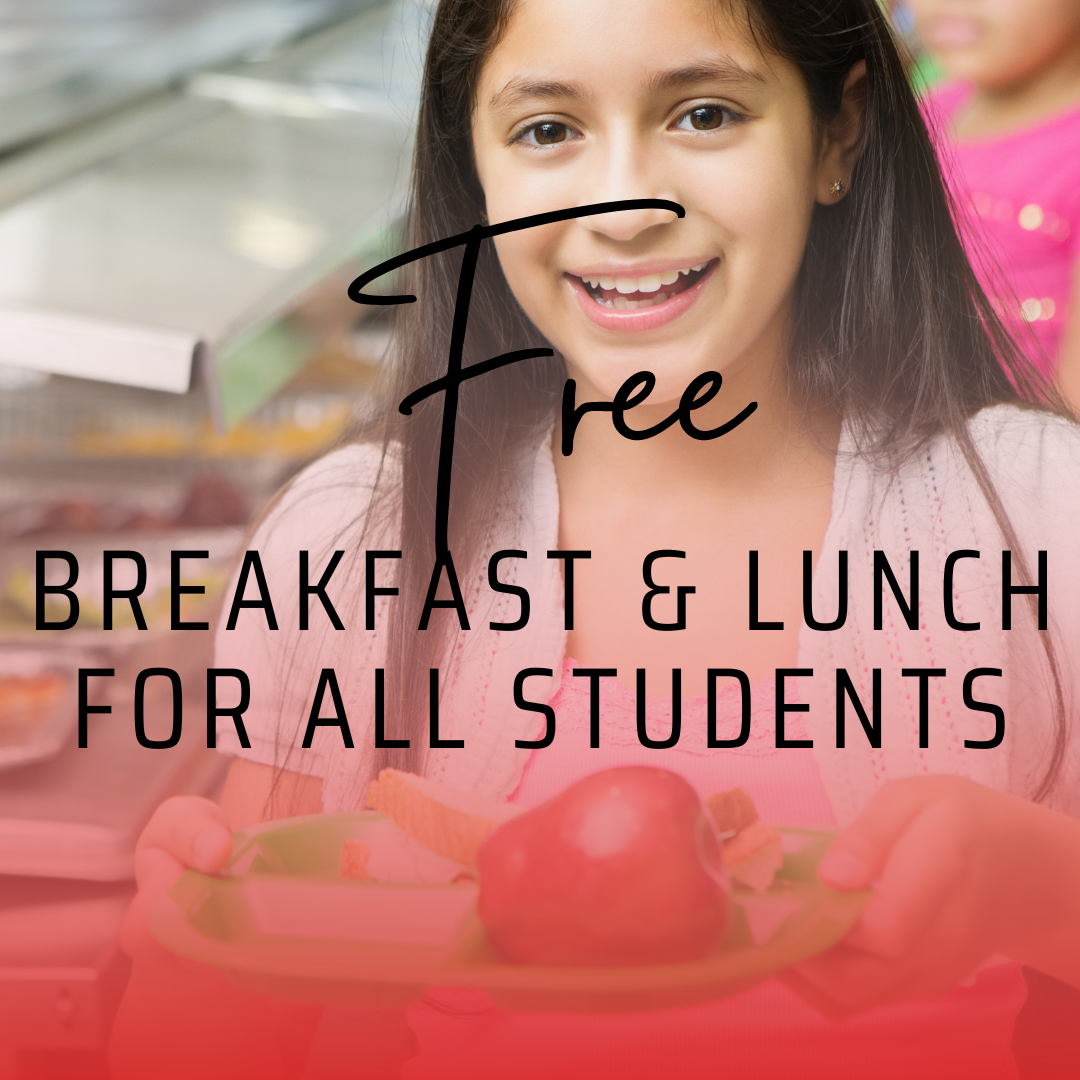 ---
Autauga County Schools to Provide Free Meals to All Students for 2023-2024 School Year
Autauga County Schools is participating in the USDA's National School Lunch Program and School Breakfast Program, so under the Community Eligibility Provision, breakfast and lunch will be provided at no charge to all students for the 2023-2024 school year! There are no applications or additional information required.
This is a pilot program for Autauga County Schools that, if successful, could be available through the 2026-2027 school year, but participation is key! All students are encouraged to participate to ensure success and program longevity. Students may enjoy full meals every school day or supplement meals from home with vitamin-rich foods such as fruit, vegetables, and milk.
Community Eligibility Provision is a key provision of the Healthy, Hunger Free Kids Act of 2010, which allows schools and school districts to eliminate school meal applications and serve breakfast and lunch at no charge to all enrolled students. CEP gives food service professionals more time to focus on preparing nutritious meals. More importantly, by offering all students a nutritious breakfast or lunch at no cost, CEP helps ensure more students come to class well-nourished and ready to learn. All meals will follow the United States Department of Agriculture's guidelines for healthy school meals.
"I am thrilled that we have the ability to offer meals free to every student in our district," Audra Segers, Director of Child Nutrition Program said. "Food insecurity, due in part to economic inflation, is a real concern for many families. I'm excited that this program can help eliminate at least one worry for parents and students so they can focus on learning and making the most of this school year."
Schools are still offering an a la carte menu of "extra" items that can be purchased but are not required. While school-specific menus will vary based on availability and product demand, the most common items that meet smart snack requirements are chips, ice cream, and drinks. These items can range in price from $.50 to $3.50. Purchases can be made by loading student accounts through cash, check, or paying online at www.paypams.com.
For more information, contact Audra Segers, Child Nutrition Program Director.
PayPAMS now has a free mobile App available for Android and iPhone!
Make payments, view meal account balance, cafeteria purchases, and payment history, all from the convenience of a smart phone. Personalize the App by adding student pictures.
It's easy! Start by downloading the PayPAMS App, searching for "PayPAMS" on Android's Google Play or the iPhone's App Store, then log in using your PAYPAMS.com username and password.
We ask that, if at all possible, pay your child's meal accounts online with PAYPAMS.com, if you are not able to do so we ask that they have correct change or pay with check. Thank you for your patience as we begin this new school year.
If you have any questions about your child's account you can contact Chasity Wiebe, Manager at 334-365-3522 or e-mail at chasity.wiebe@acboe.net.

Students may bring their own lunch if they wish. NO commercial food allowed in the lunchroom (ex: McDonalds, Burger King, Pizza Hut, etc.) NO soft drinks of any kind allowed in the lunchroom.
Calling all parents, students and community members!
If you would like to be a part of the district wellness committee or a member of the wellness committee at a particular school call 334-361-0805 or email audra.segers@acboe.net for instructions on how to join.
We welcome your input!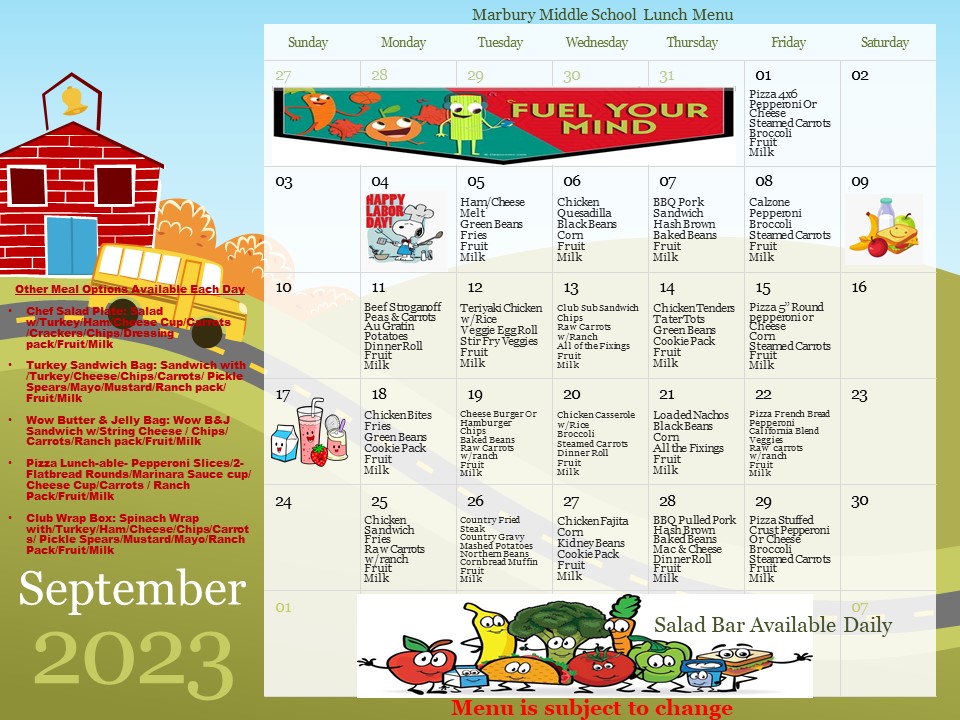 Lunchroom Staff

Chasity Wiebe- Lunchroom Manager
Tonja Phillips

Kaysha Huffstutler
Shailyn Hollon
Chelsea Monfee
MEAL PRICES Breakfast

Lunch

STUDENTS

Free

Free

SCHOOL EMPLOYEES & BOARD MEMBERS

3.00

4.50

VISITOR LUNCHES - ADULT

3.25

4.75
USDA Information

"The U.S. Department of Agriculture (USDA) prohibits discrimination against its customers, employees, and applicants for employment on the bases of race, color, national origin, age, disability, sex, gender identity, religion, reprisal, and where applicable, political beliefs, marital status, familial or parental status, sexual orientation, or if all or part of an individual's income is derived from any public assistance program, or protected genetic information in employment or in any program or activity conducted or funded by the Department. (Not all prohibited bases will apply to all programs and/or employment activities.)

If you wish to file a Civil Rights program complaint of discrimination, complete the USDA Program Discrimination Complaint Form, found online at http://www.ascr.usda.gov/complaint_filing_cust.html, or at any USDA office, or call (866)632-9992 to request the form. You may also write a letter containing all of the information requested in the form. Send your completed complaint form or letter to us by mail at U.S. Department of Agriculture, Director, Office of Adjudication, 1400 Independence Avenue, S.W., Washington, D.C. 20250-9410, by fax (202)690-7442 or email at program.intake@usda.gov.

Individuals who are deaf, hard of hearing or have speech disabilities may contact USDA through the Federal Relay Service at (800)877-8339; or (800)845-6136 (in Spanish).

USDA is an equal opportunity provider and employer."