MMS Dress Code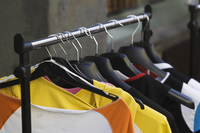 ---
MMS DRESS CODE
Children need to come to school in comfortable clothing. It is best to put the child's name on any clothing that will be removed at school, such as coats or sweaters. The following articles of clothing and other items are not allowed:
· Pajama bottoms or tops
· NO blankets
· NO holes in pants/jeans AT ALL.
· strapless dresses
· "spaghetti straps", "tee tops", "muscle shirts"
· Mini skirts and shorts
Should not be overly tight and should be properly fitted at the waist height. Should be walking type shorts, not athletic or wide legs or slits. Shorts/skirts should not be more than 3 inches above the knee when standing, or at the discretion of the principal or designee for tall students. Leggings/tights do not change the length of the skirt.
· Overalls unfastened or with bibs down
· Belts unfastened
· Picks or combs in hair.
· Clothing with decals or slogans containing profanity, inferring obscene/indecent commentary or referring to immoral/illegal behavior
· Over-sized clothes large enough to conceal items
· Bagging/sagging pants worn below waistline
· Exposed midriffs
· Facial jewelry
· Hats, caps, and sunglasses inside the facility
· Bandannas or scarves
· Flip-flops or sneakers that are unlaced or untied
· Clothing made of sheer fabric or spandex (This includes LEGGINGS/JEGGINGS when not worn with a dress, skirt, or shorts that are not more than 3 inches above the knee when standing.)
· Clothing which is too short, too tight, or too revealing
. ANY AND ALL CLOTHING DEEMED INAPPROPRIATE BY THE ADMINISTRATION.